Despite strong headwinds and rising inflation, the retail market in Vietnam saw immense growth in the past year. Retail sales increased by 17.1% year-on-year in October. According to industry reports, consumer spending is set to reach 5,067 trillion Vietnamese dong by the end of 2022.
It is projected that Vietnam's retail industry growth will register a compounded annual growth rate (CAGR) of over 10% from 2021 to 2026.
How will the retail industry's growth in Vietnam look like in 2023, and what are the trends that businesses should look out for? We look at the development of modern trade in Vietnam and how the retail market will expand in the coming years.
The Development of Vietnam's Retail Industry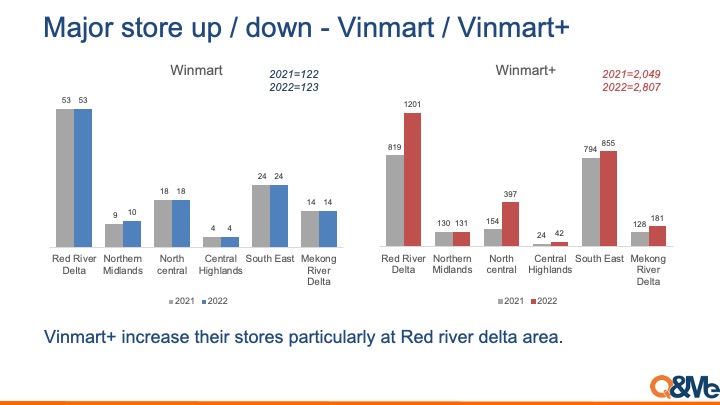 Source: qandme.net
As one of Asia's largest emerging economies, Vietnam continues to attract regional and global retail multinationals, and local companies are also seeing lucrative growth opportunities. Real household spend is projected to reach a 7.3% increase year-on-year in 2023.
This comes after the continuous post-pandemic economic recovery of Vietnam with domestic demand increasing, and growth figures are expected to remain stable in the medium-term.
Some of Vietnam's major retail trends in 2022 included omnichannel retail, where consumers toggle between brick-and-mortar stores, brand websites, and third-party apps and platforms to find the best deals and complete their purchases.
Consumers also moved away from shopping from traditional grocery retailers to other channels like convenience stores, hypermarkets, and supermarkets. Bulk buying, private label brand availability, and attractive pricing have fueled these changes in consumers' buying habits.
Consumers are also becoming more knowledgeable about the products they purchase. Retailers need to be prepared for increasingly demanding buyers, and offering high-quality products and services is of utmost importance, especially for small and medium-sized enterprises (SMEs).
Offering promotions that will give buyers good value for money and having brands exclusively available in stores are also key drivers in increasing sales for retailers.
Looking Ahead
As the growth of Vietnam's retail industry shows continued acceleration, two key sectors that will play a role in its development are fintech and e-commerce. The government has been pushing for digital payments for financial inclusion, and consumers are also using mobile wallets, QR codes, and cards increasingly.
Digital payments are expected to reach a value of over 19.2 billion US dollars in Vietnam this year, with adoption of cashless payment methods rising to 95%. Harnessing the potential of digital payments will also help retailers offer more ways of paying and enable microentrepreneurs to secure loans more conveniently.
Vietnam is expected to become the fastest-growing e-commerce market in Southeast Asia. The B2B segment will drive this growth by increasing its capacity to supply consumer goods to retailers across the country.
Adopting smart technologies such as artificial intelligence (AI), cloud computing, and the Internet of Things (IoT) will allow these e-commerce channels to manage their inventory and determine consumer demand quickly.
As Vietnam looks to 2023 banking on strong consumer spending, the retail industry's growth is expected to advance, and retailers need to keep up with evolving consumer demands.